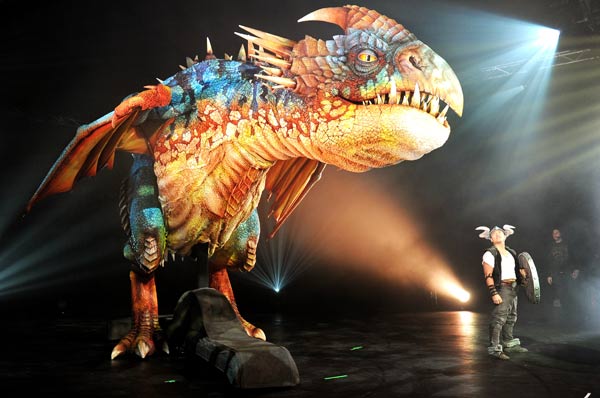 You might know that there's a
Dragons arena show
in the works, and if you're like me, there's probably one thing on you're mind: what will the Night Fury look like?
Well, for the first time, they're going to show us. On February 4, the TV special
How to Train Your Dragon Comes to Life
will air on Seven Network in Australia. It promises to describe the process behind creating the giant dragon puppets and, yes, will give us the first ever glimpse of their Toothless model.
Theatrepeople.com.au
explains:
The television special will feature the cast and crew preparing for the show's WORLD PREMIERE in Melbourne in March. The star dragon of the show TOOTHLESS, will be introduced to viewers with his dark colour, piercing eyes, and lovable nature. He is indeed the dragon that the audience will irresistibly fall in love with.

Audiences will also get a glimpse into what it takes to bring these mythical beasts to life via animatronics and 'voodoo' puppetry. [...] Cast members Rarmian Newton, Riley Miner, Sarah McCreanor and Gemma Nguyen look at various aspects of the production and how the engineers and creative team mount a spectacle of this size - from the massive wall-to-floor projections, to the amazing flying rig, to the dragons themselves.
Yeah. It's pretty cool. So far, I've seen no dates for the arena show to appear in the US, but
according to this article
, there are arena shows being planned for Las Vegas as well.
UPDATE 2/5:
It's out! Did you see it? That's okay, you can always use the Internet...